About Us
We are the Baking society, we meet every other Thursday at 7pm, usually in Teaching Block. Every session we have a theme (such as Bake Your Degree, or Chocolate) and you bring along a bake to do with that theme (or not, you do not have to stick to the theme, it's just a bit of fun!) We all try each others bakes and usually have some kind of an activity, either a quiz, games, or biscuit or cake decorating. We're super friendly and chilled out- do not worry if you haven't baked before! Absolutely anyone is welcome, whether you are the next Mary Berry or you have never baked before.
Join Us
Membership for the year is £5 and can be bought through the students union website. We strongly encourage you to buy membership as it does save you money when we run our decorating sessions where we provide you with the ingredients you need.
Do you run baking lessons?
We'd love to, but there's no space on campus we could do so. We are more than happy to help with troubleshooting problems or answering questions though, so ping us an email or post on our Facebook page- we all have to start somewhere and no one's perfect!
Get In Touch
For more information, and for details about our sessions, please check out our social medias, or send us an email
Instagram: @uos_baking_society
Facebook: facebook.com/uosbakingsociety
Meet Our Comittee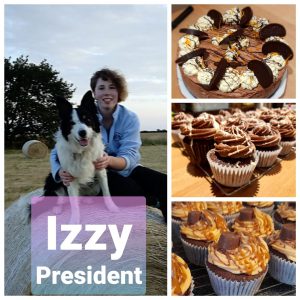 Hi, I'm Izzy and I will be returning as your Bake Soc President again this year. I am currently a second year vet student. I love to bake anything with chocolate in it, although if I had to name a single thing as my favourite thing to bake, I'd have to say it's cheesecake (I know you don't technically bake it, sorry!). When I'm not eating cake you will often find me running.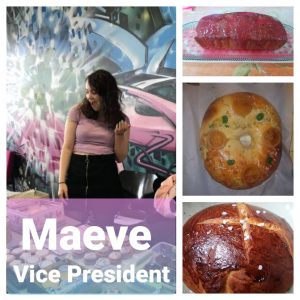 Hi! I'm Maeve, I'm a second-year vet and the new vice president of Baking Society. My favourite things to bake are banana bread and lemon drizzle. When I'm not making or eating cake, you will probably find me painting.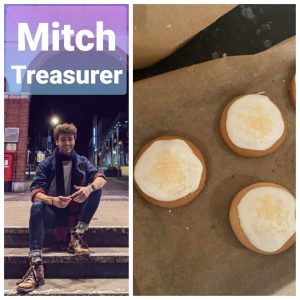 H! I'm Mitch and I'm the new bake soc treasurer. My favourite thing to bake is gingerbread (mostly houses but I'm partial to a gingerbread man too). Other hobbies include Rubix, long walks on sunny days and spending time with my friends.