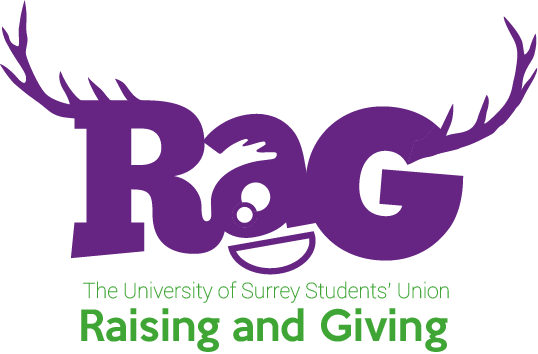 What is RAG?
Raising and Giving (RAG) is part of the University of Surrey Students' Union. We aim to fundraise for various charities, locally and globally as well as engage widely with the community here at Guildford.
We run various RAG events throughout each academic year for students to get involved in – including bake sales, adventurous activities, Movember, Sleep Easy and RAG Raid. We provide a variety of ways for students at Surrey to get involved in fundraising.
About Our Fundraising
All fundraising is completely student-led; this means that the RAG Chair, RAG Representatives, and students choose exactly which events they want to run. Supported by the other elected officers, RAG aims to raise as much money as possible and have fun.
All money raised from our events and challenges goes towards your chosen charities, that you voted for, for the academic year.

The winning national charities are:
The Children's Trust

Description: We are the UK's leading charity for children with brain injury and neurodisability. We deliver rehabilitation, education, and community services through skilled teams who work with children and young people, and their families.

Sense

Description: We believe everyone should be able to take part in life, no matter their disability. Our work helps thousands of people who are deafblind or who have complex disabilities to communicate, experience the world, and fulfill their potential.

Refuge UK

Description: No one should live in fear of violence and abuse. Help Refuge support people fleeing abuse. Your support helps us be there for thousands of women and their children experiencing abuse. Give back independence. Donate now. Specialist support.

Shelter

Description: Shelter is a registered charity that campaigns for tenant rights in Great Britain.

Pump Aid

Description: Help build and provide water, ending water poverty across the globe.

The winning local charities are:
Momentum

Description: We support children with cancer and life-challenging conditions, and their families, helping them to cope more easily whatever the outcome. Working across London, Surrey, and Sussex, we partner with ten local hospitals who refer families to us following their child's diagnosis.

Royal Surrey NHS Foundation Hospital Charity

Description: Supporting the local hospital to provide essential healthcare services to the community.

Childlife

Description: All of the four Childlife charities provide much-needed care and support to children, young people, and their families. Many families find themselves 'in at the deep end' following a diagnosis and turn to a specialist charity for information and advice. They are able to offer practical solutions to everyday problems, as well as enabling families to get together at organized events where they can share experiences and support one another.

Age UK Surrey

Description: Age UK Surrey is an independent local charity providing services across the whole of the county to help people aged 50+ make the most of their life.

Cherry Trees

Description: Cherry Trees is a charity providing exceptional home-from-home, specialist short-break respite visits for children and young adults aged 0-19 with a range of complex disabilities, including learning, physical, and sensory impairments. Founded in 1980 by a group of parents and doctors, Cherry Trees is a lifeline for the families of more than 100 children and young people who are regularly cared for here, whether it be after school for a few hours, a weekend, or a longer stay.
There are a number of ways to get involved in RAG. From being a RAG Rep to volunteering at one of our events. There's something for everyone!
Find Out More
If you want to find out more about RAG at Surrey, check out our Raising and Giving social media accounts: