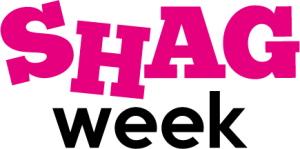 This page is all about SHAG Week (Sexual Health and Guidance Week!) and where Surrey Students can access sexual health support.
Students can join lots of online and in-person events created to promote sexual health awareness, with a focus on LGBTQ+, digital safety, screening and as always, lots of fun giveaways and competitions! See below for the details of what we planned for last years' SHAG week. The 2022/23 is scheduled for Feb 2023 – keep an eye out!
Where to access Sexual Health support
For free STI testing in Guildford, please click here: Buryfields Sexual Health Clinic in Guildford, Surrey (cnwl.nhs.uk)
If you are 25 or under, you can order a Free STI self-test here: Checkurself
If you require free condoms, please email ussu.information@surrey.ac.uk and one of our C-Card trained staff will be in touch.
If you require pregnancy tests then please email ussu.vpsupport@surrey.ac.uk or pop into the SU to pick up your FREE test!
Take a look at last years' events…
Library Pop Ups
Come by to see us at the bottom floor of the library from 11am – 3pm on Monday and Friday of SHAG Week. We'll be playing games, answering any questions you may have and have lots of freebies to give away! Think sexy themed biscuits and cookies in collaboration with Bake Soc, sexual health information and naughty gifts for yourself or someone else!


Sexual Health Screening
We will be holding screening drop in's at Rubix to kick off SHAG week. Drop in between 11am – 3pm to speak with our specialist advisor as well as get tested for FREE. The service is confidential and non-judgemental so if you have any concerns, then don't delay!


Positive Minds: Face to Face
Struggling with low mood and depression at University? Come along to Positive Minds, a peer support group for students struggling to keep low mood at bay. This six week drop-in course will run every Monday in person on Stag Hill campus. Run by our trained student facilitators, Positive Minds focuses on promoting positive mental well-being with each week focusing on a different theme to keep low mood and depression away. Book here


Spread Love Not STIs! Why don't you spread a bit of love today? Launching from Monday 14th February, if you know someone who could do with a boost, or just want to pay it forward, fill in this form here and we'll send a little anonymous message to that person with the words you share below, you can even make it a bit cheeky if you want to!


Digital Safety and Sexual Behaviours – online recording
Listen to this engaging and exciting conversation between the Support Zone and Dr Emily Setty, our very own digital and sexual expert, exploring what is positive digital sexual behaviour and how to watch out for those red flags! With safety as well as having fun on the agenda, you don't want to miss out on how to best navigate sexuality online! Commentary will also be open on Thursday 17th February, so leave any questions you have there and we will answer for you! Link here: https://www.youtube.com/watch?v=ylSLIf4lj_U


SHAG themed Tuesday Challenge
Every week the Community Zone host Tuesday Challenge quiz nights from 7 – 11pm, make sure to get your team together at Hari's Bar and get ready to win some sexy prizes! Even better, it's FREE!


SHAG Pride
Keep an eye out on VP Support and the Union Insta as we bring you relevant, fun and sexy content all LGBTQ+! Don't follow us? Look up @ussu_vpsupport and @surreyunion for updates!


LGBTQ+ Citrus
Going out out during SHAG week? Citrus is ready for you with lots of giveaways to keep you safe and sexy! Think condoms, flavoured lubes and more!


Speed Mate-ing
Want to meet new people at University but don't know how? Come along to our Speed-Mating event at Hari's bar from 6.30pm and meet other students! We will have free prosecco, nibbles and other drinks available at this student mixer! Book here to sign up!